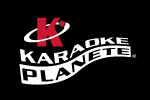 SCDG de Karaoké
Super CD+G, SCD+G, SCDG
Super CD+G is a 5 inches CD and have hundreds of CD+G karaoke songs in each single disc.
Super CD+G discs are convenient and economical for parties and rentals. Super CD+G discs will save you time and money.
Super CD+G discs are playable in DVD CDG karaoke players with SCDG trademark.
Super CD+G discs are compatible to PC with Windows (95, 98, ME, 2000, XP) and a DVD-ROM drive. Simply insert the disc, and play hundreds of karaoke songs right in your PC. All commercial SCD+G discs comes with PlaySCD+G player program that has powerful karaoke features.
Super CD+G discs now include INX 1 (also called INX), is a song search function added to the Super CD+G discs. It enables song search by title and by artist name for songs in the Super CD+G disc. A Super CD+G disc can hold hundreds of songs in a single disc and the search function is crucial to find the right song and often it will save the time to go through the song book. With INX function, just select between search by Title or by Singer, and type the initial letters to start the search for a song or for an artist.
Available Super CD+G.
Affichage par style
Des incontournables
Recherche par langue
Reconnaissez-vous le nom d'un manufacturier ?
Liens pour quelques ensembles
Recherche par décennie
Par année de 1960 à 2019
Quelques duos
Bonne recherche !
Informations importantes : Les prix et commandes sont en dollars canadiens « CAD » (convertisseur de devises). Livraison GRATUITE pour les commandes contenant des articles admissibles dont la valeur est égale ou supérieure à : Canada 35 $, États-Unis 50 $ et 80 $ pour les autres pays. L'année et le style musical sont à titre indicatif seulement. Les illustrations, la langue, la liste de titres et l'orthographe sont le plus fidèles possible mais pourraient différer du produit. Les chansons proposées sont la plus haute qualité disponible. Ces produits professionnels sont conçus pour l'amusement et ne sont pas interprétés par les artistes originaux.
Tous droits réservés© www.karaokeplanete.ca 2006 à 2019. Une filiale de Karaoké Planète®
Services Web ☎ 514 527‑2653